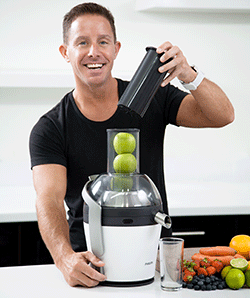 Jason Vale, aka 'Juice Master', is the best-selling author of twelve books on health, addiction and juicing. His books have now sold over 3 million copies and have been translated into many languages.
Jason is an internationally respected name in the world of juicing and health, with over a dozen books including his global best-selling 7lbs in 7 Days: Juice Master Diet, more recently his 5:2 Juice Diet and his ground-breaking health documentary Super Juice Me! The Big Juice Experiment.
Jason wasn't always slim and healthy; he used to suffer from severe psoriasis, eczema, asthma, hay fever and obesity. He used to smoke 2 – 3 packets of cigarettes a day and drank very heavily, consuming up to 14 pints of lager a day. He has used juicing as the main tool to clear his skin, drop the weight and free himself of illness. He is now on a mission to 'Juice The World' and help people to turn their health around using natural means where possible.
In 2002 Jason was asked by Moulinex to be the face of their juicers. Moulinex soon became the best-selling juicer in the country. In 2005Philips headhunted Jason to be the face of their range of juicers and blenders in the UK and throughout Europe. Philips soon became, and remained, the best-selling juicer during Jason's endorsement
In 2013 Tristar products approached Jason to be the new 'Jack La Lanne' in the USA and feature in his very one infomercial. Jason continues to spread the juicy word stateside and across the globe.
Since 2015 Jason has been an advocate of the UK based Retro brand of juicers and blenders and continues to promote their fantastic range as his 'go to' juicer/blender of choice.
Jason has also released a series of health and addiction apps for Android and iOS. Each of these have reached No.1 in their respective categories. Over one million 'Jason Vale' apps have now been sold.
In April 2014 Jason launched his ground-breaking documentary Super Juice Me! The Big Juice Experiment. The UK Premiere took place at London's prestigious Odeon 'West End' cinema in Leicester Square to a celebrity packed audience. The film has received 5* reviews and has now been watched by over 2 million people.
His health retreats in Turkey and Portugal continue to sell out months in advance and are the destination of choice celebrities from across the globe.
For further information on Jason Vale's Juice Retreats please visit: