Franchise Opportunities
Juice Master, through the brand leadership of juicing expert Jason Vale, is committed to building the most health focused network of juice bars across the world. We are fortunate to have selected some of the most amazing franchisee partners across the world and aim to expand the network into new territories in the coming years.
We want to find more people that not only embrace the Juice Master philosophy but also people that demonstrate they are committed business leaders within their chosen territory. We receive hundreds of franchisee interests every week and we will continue to select the best people from all over the world to help grow the Juice Master Juice Bar brand..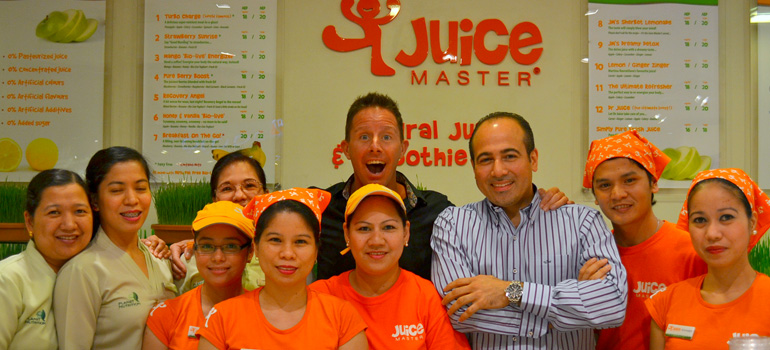 CEO and face of Juice Master Jason Vale said, "it is so important for us to find the right people who will help us to fulfil our mission to 'Juice the World' that share in our excitement and enthusiasm for health and nutrition and want to help inspire people into true health. I made massive personal change to my health and our juice bars are there to help educate customers so they can make similar change to their own lives. One story spreads to ten and it really helps to get the world juicing".
Our franchisees tell us they want to feel a part of the Juice Master team and global family, because they can see the change that juicing can play in peoples' lives no matter what country or walk of life they are from. Our franchisees share our passion, and want to be part of a great network with like-minded franchisees, all aiming to grow the brand and start their own successful business.
We are looking to partner with individuals with:
Experience in running their own business or being part of a larger company.
A passion for juicing, health and nutrition.
The time and commitment to embark on a business opportunity
Significant finances to start the business (minimum personal investment of £50,000 excluding franchise fee).
What We Offer
We are offering the right people the opportunity to open their own Juice Master Juice Bar using the Juice Master name, systems, expertise and ongoing marketing and exposure of the Juice Master brand. Essentially you will be in business for yourself, but not by yourself as you will benefit from:
The recognised Juice Master name and brand
Our knowledge, know-how and systems
All of our well loved recipes
The Juice Master launch training and option of annual refresher training
Training; Health & Safety and Operation Juice Master manuals
Ability to create additional revenue by selling health related books, DVD's and supplements
Access to our branded disposables (cups, napkins, uniforms, literature etc)
Branded marketing and point of sale material
Please download our Franchise application form
The Financials
The financial investment varies depending on whether you opt for a full shop-fit or stand alone juice station. For full details download the Juice Master franchise information.  New franchisees will need to have significant personal or private investment to start their business and launch a Juice Master Juice Bar.
A great value 'juicy' franchise
We feel our franchise fee is the best value franchise on the market at just £9,995. Unlike nearly all other franchises, we do not ask for a percentage of turnover, but simply a flat royalty fee of just £5000 per year. This means you will not get penalised for being successful and expanding your business.
Want a franchise now?
If you want to be a franchisee please  email  :franchise@juicemaster.com for further information.